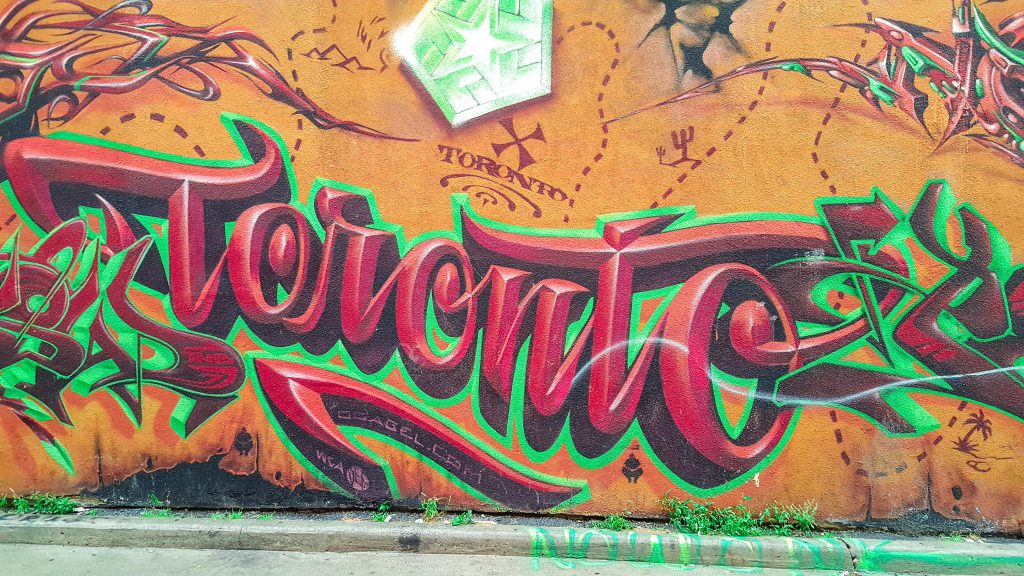 Toronto, the fifth largest city in North America and the most populated one in Canada. We had the pleasure of visiting Toronto in early October of 2019 for a few days. While the weather was much like Seattle in the winter – cold and cloudy with an annoying misty rain that nothing can protect your face from other than putting a plastic bag over your head, but I wouldn't recommend that – on the first day, the second day proved to be bright and sunny, much like the fine folks who live here.
We are lucky because we have a cousin that lives downtown, between the Bay Street Corridor and Chinatown near Mount Sinai Hospital, who let us stay at his place. This was a prime location for us to explore the downtown area without having to pay for an expensive hotel.
In true Jordaniel fashion, we took a walk about; exploring the city, looking for good food, good cocktails and anything else of particular interest. Below is what we did on the first day of being in Toronto.
Chinatown
There are two Chinatowns in Toronto. The larger one to the North is the largest Chinatown in North America. We headed to the smaller of two, Chinatown West. The first thing you should know is most of the places here only accept cash. If you are looking for eats or drinks, better have some on hand or you may miss out. Typical of most Chinatowns, this place has its Chinese-centric arts and stores, boasting cheap electronics, food markets, trinket stores, and intimate (and sometimes intimidating) restaurants. We decide to eat at Seven Lives Tacos Y Mariscos – yes a taco place in Chinatown.
This is a small place serving up big flavor – I think Guy Fieri made that phrase too popular, and now I hate that his name made my blog. The number of seats basically equals the number of tacos being offered, eight. The Gobernador (smoked marlin, shrimp, and cheese), Baja Fish (fried haddock), Camarones al Diablo (spicy shrimp and cheese), Pulpo a la Mexicana (grilled octopus), Cabeza (beef cheek and head meat), Carnitas (braised pork shoulder), Pollo Asado (spicy grilled chicken), and Cuitlacoche (corn smut and black bean). The menu typically changes so don't blame me if you can't get your corn smut and beef cheek. We each had three a piece which was about one too many as these are massive for street tacos. The Gobernador, the Baja Fish, and the Camarones al Diablo were the ones we devoured, well worth making the trip into Chinatown and grabbing cash from the ATM for.
Afterwards, we meandered down Kensington Ave, great narrow street lined with shops and art throughout, making the two mile walk to our next destination visually appealing. We even got a free can of Hoegaarden White! If this what life is like to live in "Socialist" Canada, sign me up! (I am kidding about the socialist part haha).
Graffiti Alley
Toronto seems to have graffiti all over the town, despite being illegal and punishable by fines and possible arrest, so don't do it. There is a place in Toronto that is famous for having graffiti so beautiful, that tourists come during the warmer months to enjoy, so do this instead. Deep within the fashion district, is Graffiti Alley.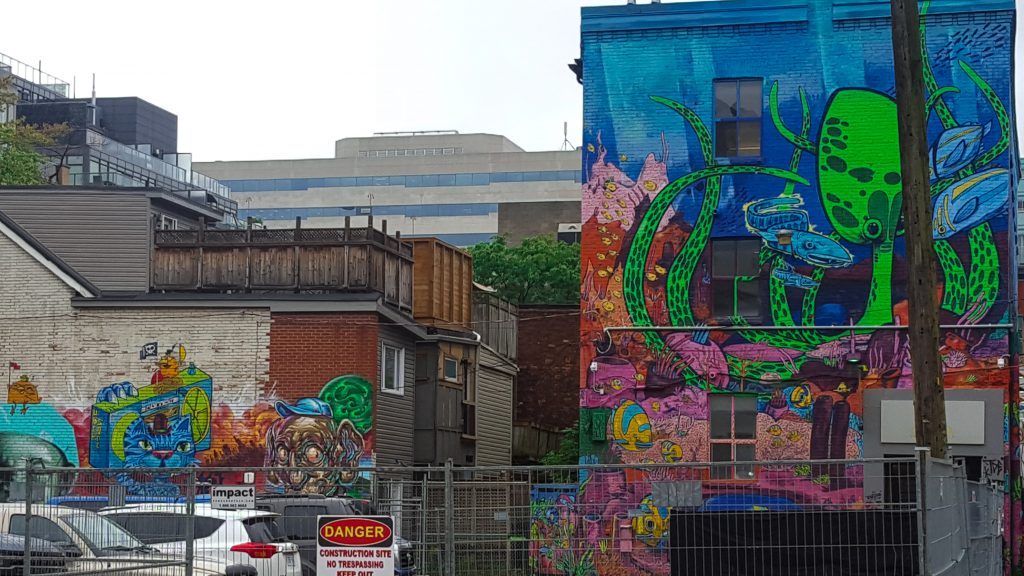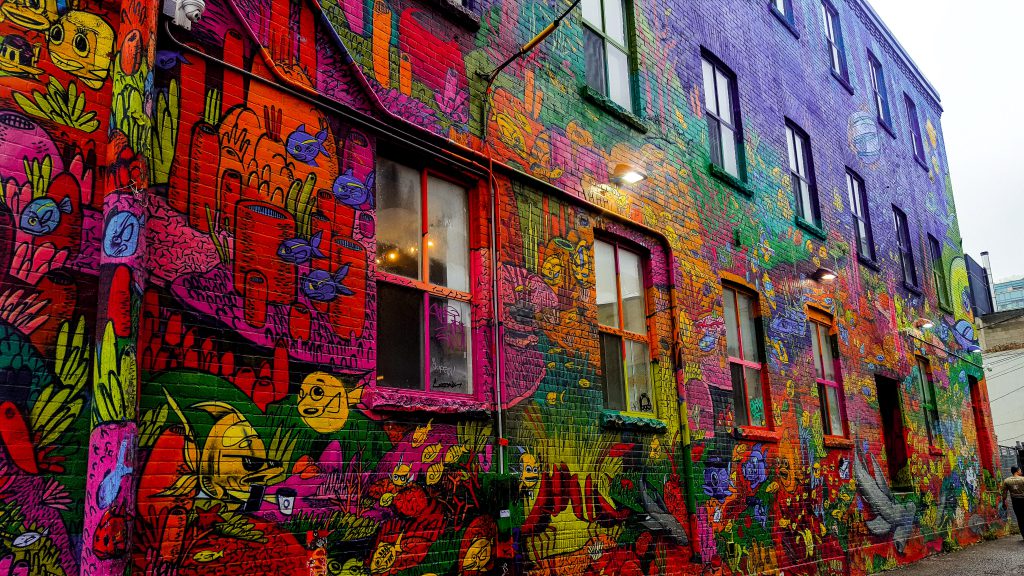 Just south of Queen St between Spadina Ave. and Portland St, this 1 km alley is a true alley, tight spaces with garbage cans and delivery trucks with the bright colors vibrant art on the walls of the buildings. There is something that will be visually stimulating to anyone who comes and visits. Whether it is true graffiti, creative designs, or somewhat risqué pieces, this is truly an open air art studio worth visiting.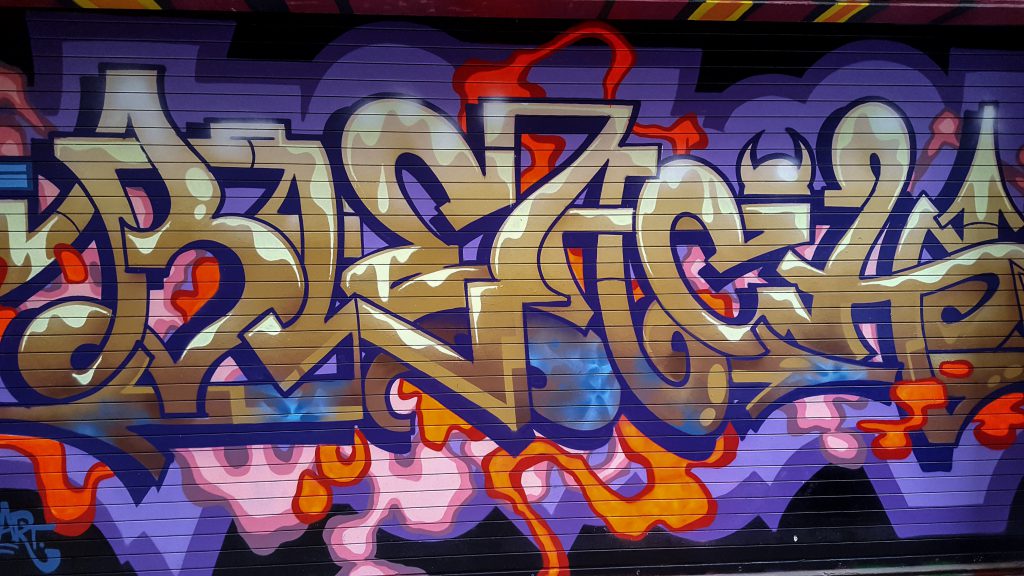 Kōst
South on Portland St and East on King Ave, we made our way to our first cocktail stop. Quickly though, a word about King St. If you are walking, you are fine, but if you decide to drive through King St., you should know it's intricate structure. City council made it illegal to drive more than two blocks on King St. for regular civilians. It is allowed for emergency and city vehicles and public transportation, making it very hard to remember that you have to turn off or risk getting a ticket. Quick tip, just don't drive.
Kōst is a great place to grab a drink and breathe in the spectacular Toronto air. This restaurant sits on top of the Bisha Hotel on the 44th floor. It offers outdoor seating, 360 degree views of the city, and an infinity pool that you can take a dip in if you so desire. The October weather wasn't very favorable for us, too cold and misty to sit outside, but they allowed us to step out and view the city.
Kōst offered a fine variety of cocktails, craft beers, and wines despite serving them in plastic cups, I think because of the pool area. Pictured below is the Sunset Strip (Bulleit Bourbon, Campari, Amaro Montenegro, Jack Ruby Bitters, and Saffron) and the Pomegranate Punch (Bacardi Oakheart, Martini Bianco, Fresh Pomegranate Juice, Fresh Lemon Juice, Kōst Syrup, and Soda).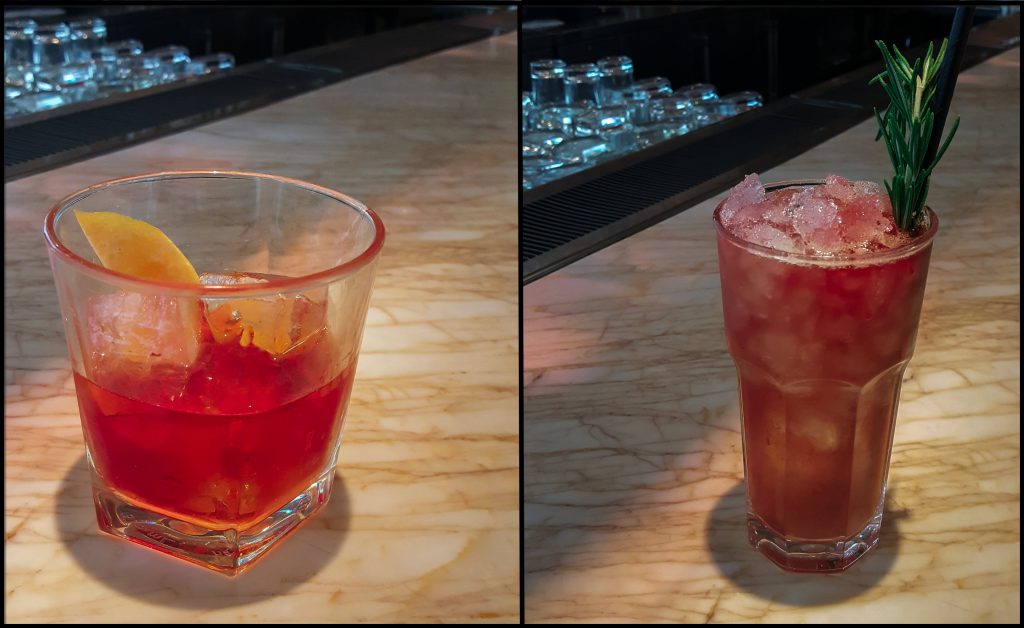 Walk of Fame
Leaving Kōst, going west on King St. you literally walk through Canada's Walk of Fame. Below the picturesque Roy Thomson Hall, on the sidewalk, are maple leaves with the names of famous Canadians. Honestly, not going to lie, I didn't recognize a lot of the names, but it is still neat to walk through, sort of like the Hollywood Walk of Fame (again, gotta be honest, I've never actually been there but I would imagine they are similar).
We continued our walk traveling West on King St. turning North on Younge St. heading through the financial district of Toronto. It is pretty amazing how much money is flowing through the banks, financial institutes, and high end retail inside architecturally inspiring buildings in this part of downtown. While neat to see all the tall buildings, there isn't much to do here.
City Hall
The 3D Toronto sign and to see the awesome structures that make up city hall make this a worthy stop. Nathan Phillips Square dubs as an ice rink in the winter and a public gathering spot where a lot of street and art fests happen, including outdoor concerts. The overhead walkway makes for great views and unobstructed shots of the Toronto sign.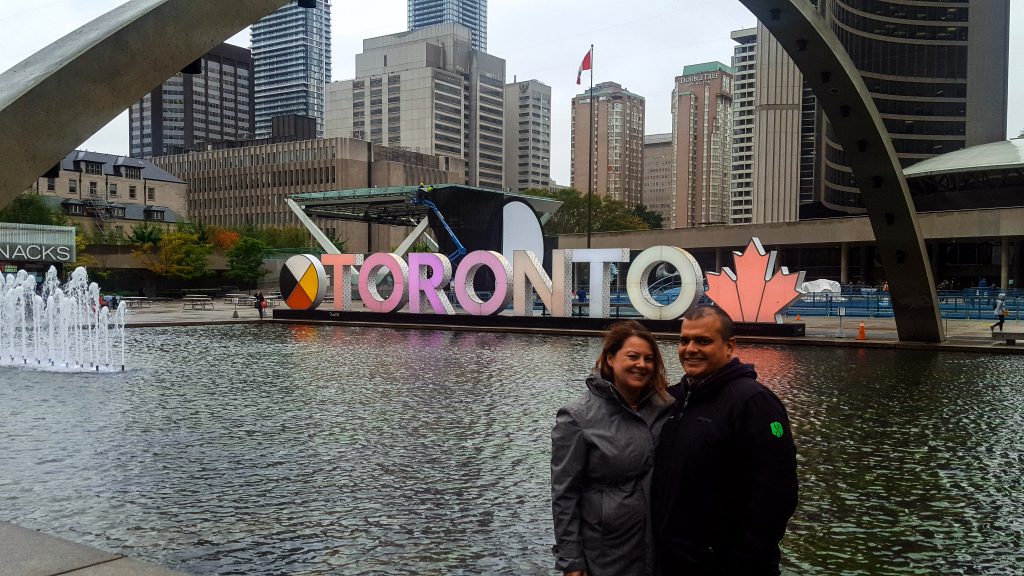 We were there while they were setting up for Toronto's All Night Art Thing which is 12 hours of art displays throughout the city from 7pm to 7am.
Part 2… coming soon!
This was not the end of day 1, we did walk 11 miles after all! But it is the end of this post. Stay tuned for the exciting conclusion of how we ended day 1 and what we could possibly squeeze into day 2. (Hint: it involves cake!)
Have you had a drink 44 stories high? Received a beer for free on the streets? If so, where, because we want to go there!